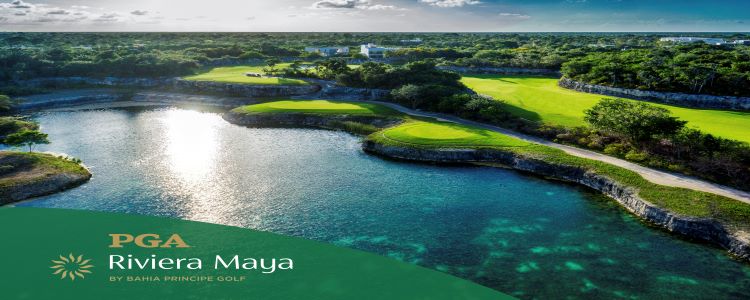 PGA Riviera Maya
Green Fee $160. USD
Teed Off Tee Times Special Rate - After 10:30 am 145. USD
Twilight $130. USD
Rentals $55. USD
INCLUDED: Rates include non-alcoholic beverages and round-trip transportation at No Extra Cost!
Rates Valid Until April 30, 2021
PGA Riviera Maya at Bahia Principe resort, just outside Tulum, is an impressive work of architecture where designer Robert Trent Jones II has attained a spectacular synergy between golf and the lush mayan jungle, integrating natural lakes and cenotes (sink holes) within the rugged terrain. With eighteen holes cut deep into an ancient limestone quarry and fairways flowing along the natural contours of a jungle dense with mangroves and gum trees, limestone boulders piled at the edge like rubble swept aside by Maya Gods. More than a game it is an environmental experience. This course offers food and beverage at the club house and snacks along the course.
Green Fee $160. USD
Teed Off Tee Times Special Rate - After 10:30 am 145. USD
Twilight $130. USD
Club Rentals Taylormade $55. USD
Rider (includes shared cart and non-alcoholic beverages) $40. USD
Rates include non-alcoholic beverages and round-trip transportation at No Extra Cost!
---